When we moved out to Virginia and bought our house it was a true "fixer-upper."
It's a 1970's split level that was dated and the bottom level consisted of a family room, small, bathroom and the rest of the space was dirty, dingy cinder block basement. The duct work was hanging out and the whole 9! This is the space we knew we would convert to the new family room and we really wanted to do something different. Now that we are selling and moving this is the room i will miss the most. So i thought i would share with you some of the fun stuff and good ideas in our family room!!
One of the problems that we had to solve was the heating/air duct work. If we put a drop ceiling below the ducts the ceiling would be really, really low. So we decided to paint the entire ceiling, rafters, ducts and all, like they do at the restaurants, you know, like TGIF's or Red Robin. So Hubby picked a really dark brown, hooked up the sprayer, and went to town! Please be advised the room was completely empty when we did this, no carpet or drywall!!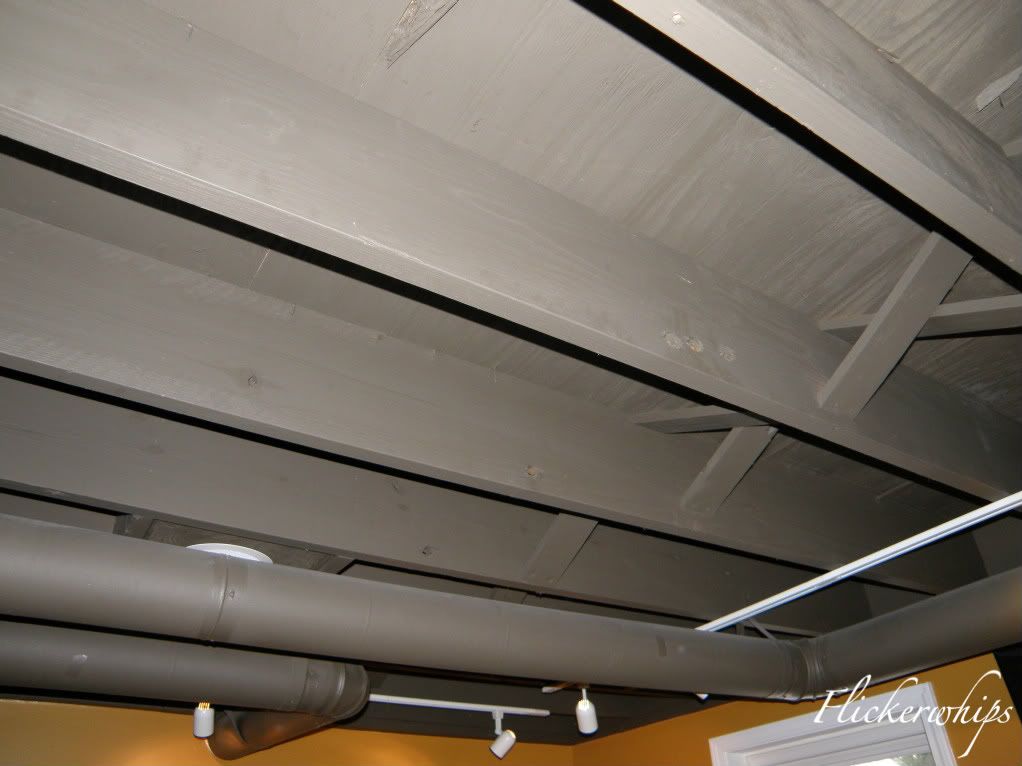 The white circles you see there in the ceiling are built in speakers for the surround sound and tract lighting solved the answer to our lighting issues.
After drywall went up, i wanted to step out of my comfort zone and paint the room some really wild color that wouldn't normally be my style. For some reason this burnt sunset orange named Fancy Suede, caught my eye and i fell in love.
I knew i wanted to do some kind of gallery wall. So....being from Southern California and living about an hour away from most major theme parks, what do you do with all of those pictures and caricatures that you buy to remember your visits? You make a gallery wall of course!! From Knotts Berry Farm to Disneyland and World, Sea world and the time the Oscar Meyer Wiener Mobile came to town! It's all there and more!
We built an entertainment center to house the TV and all of the "goods" but we put a little twist on it. Instead of making the wall straight across from one support pole to the other, which would limit our space, we stepped it back at an angle, hid one support in the wall and wrapped the other with wood so it looks like part of the entertainment unit.
Here a better shot of the angle!
Thanks for taking the tour of my family room, i hope it gave you some inspiration for your basement remodel!!
Keep Looking Up~~Stacey